TL; DR – If you are looking for the best Korean restaurants in Singapore which are quite authentic and are run by koreans only then this article is best for you. The list of korean restaurants below serves delicious authentic Korean food that will satisfy your taste buds.
Authentic Korean cuisine with a homemade taste can be difficult to find in Singapore but, you don't have to look any further. I have compiled a master list of all the best korean restaurants which serves traditional Korean dishes you could ever want. While some of these locations are more well-known and easy to find, others are hidden gems.
These underrated locations serve highly-praised, rustic Korean cuisine with all modern variations. Enjoy all kinds of Korean food in Singapore whether you're a seasoned Korean cuisine expert, or a complete newbie to the cuisine.
Here are the top 15 best Korean restaurants in Singapore, where the food tastes awesome, and the décor is beautiful, giving you a true feel of Korea.
1. Ju Shin Jung
Address: 991B Alexandra Road #02-08/09/10/11 Singapore 119970
Timing: Open Mon-Fri
Morning: 8 am to 11 am
Lunch: 11 am to 2:30 pm
Dinner: 5:30 pm to 11 pm
Address: 11 Unity St #01-30 Robertson Walk Singapore 237995
Timing:
Lunch: 11:30 am to 2:30 pm
Dinner: 5:30 pm to 11 pm
Address: 30 East Coast Road, Katong V #03-12 Singapore428751
Timing: Open Mon-Sun, 11 am to 10 pm
About Ju Shin Jung
Ju Shin Jung Korean restaurant is beloved by the Singaporean community for its free-flow Korean BBQ. They use charcoal for the Korean BBQ as well, which makes the food especially flavourful and smokey!
In the morning, you can get a delicious breakfast of pastries, kimbap, side dishes to snack on, or their special dosirak packaged meal. It comes with a hefty portion of rice, and you can choose your own protein. They have pork belly, beef belly and sliced beef, squid, chicken, and fish options. Their fried saba fish is an especially popular Korean meal.
If you don't feel like having Korean BBQ, no worries. They also serve tons of traditional Korean cuisine, such as kimchi soup, spicy tofu stew, sliced beef bulgogi, spicy ramen, and jang myeon.
Their BBQ is definitely worth trying, though. Each set comes with a soup, pancake, wine, and dessert. They offer premium pork skirt meat, beef sirloin, boneless beef rib, and many more. We give them the top spot as this list's best Korean restaurant
2. Jangsu Korean BBQ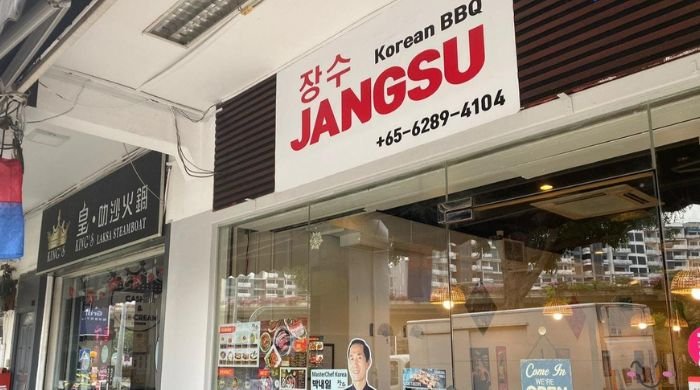 Address: 19 Teck Chye Terrace, Singapore 545725
Timing: Open Mon – Sun
From 11:00 am to 3:00 pm, and from 5:00 pm to 10:00 pm
About Jangsu Korean BBQ
Jangsu Korean BBQ in Chye Terrace is a hidden gem of a Korean BBQ restaurant! With a cozy atmosphere a mouthwatering menu, you can't go wrong by visiting this location. The restaurant's owners are Korean as well, and greet all their guests. It is very affordable and filling, so you'll just want to keep coming back for more!
They have several BBQ sets that steamed egg and your choice of soup! Their soups include tofu soup, soybean soup, and kimchi soup. Some of their most popular BBQ sets include spicy pork belly, smoked duck, beef sirloin, and chicken. Their aged grilled meats are super savoury pair well with their kimchi pancake or seafood pancake!
Jangsu Korean BBQ also serves other Korean classics, like mul naengmyeon (cold buckwheat noodles in beef broth), braised chicken in kimchi stew, and stir fried tteokbokki (chewy rice cakes).
3. Hanwoori Korean Restaurant
Address: 76 Serangoon Garden Way, Singapore 555972
Timing: Open Mon – Sun
From 11:30 am to 2:00 pm, and 5:30 pm to 9:30 pm (only open in evenings on Sunday)
About Hanwoori Korean Restaurant
This amazing Korean restaurant is proud to serve their customers with high-quality and super fresh dishes. One of the best things about Korean cuisine is enjoying all the delicious side dishes, called banchan! Hanwoori Korean Restaurant makes sure you receive around ten banchan with any meal.
They also make sure to cook healthy, using less oil so that you can eat lots without feeling greasy or uncomfortably full. While they are also a BBQ restaurant, they have a wide variety of other dishes to enjoy.
The beef bulgogi hot pot with spicy baby octopus, spicy bibim naengmyeon, bibimbap rice, ginseng chicken soup, and many more dishes are some of their customers' favourites. Customers praise Hanwoori's generous portions, authentic flavours, and friendly service.
This Korean restaurant doesn't take reservations, so feel free to walk in when you're hungry! Hanwoori is also known for their gorgeous wall mural, so you can admire the beautiful pinks and reds of the art as you eat spicy pork belly with fresh veggies and savoury kimchi pancake.
4. OPPA Korean BBQ Buffet
Address: 2 Jurong East Central 1 #03-10 JCube, Singapore 609731
Timing: Open Mon – Sun
From 11:30 am to 10:00 pm
About OPPA Korean BBQ Buffet
This free-flow Korean BBQ buffet is beloved by all ages, so it is the perfect restaurant for a fun family lunch or dinner. There is different pricing for youth, toddlers, kids, and adults, as well as for lunch, dinner, weekends, and public holidays.
It's one of the best Korean BBQ restaurants in Singapore, as it can suit the tastes of so many people. It's open all day, every day, so you can always drop by to enjoy some good Korean food. No need to make reservations a week in advance!
OPPA Korean BBQ buffet has many kinds of protein, vegetables, and sauces for you to pick up and enjoy! The best part of the buffet is that you can eat as much as you want, of anything you want! For those with a pickier palate, or are simply having a craving, this buffet is perfect to visit.
They have over forty meats to choose from. These are paired with lots of delicious side dishes and sauces like red pepper paste, fish sauce for seafood, kimchi, soybean sprouts, lettuce, cucumber, raw garlic, cooked spinach, spicy radish, and many more. These mostly veggie-based side dishes complement heavier grilled meats, like crispy pork belly, soy garlic chicken, and seasoned sliced beef.
You can also enjoy separate main dishes like army stew, tteokbokki, and ramyeon. Budae jigae, or army stew, is a Korean-American fusion dish. It adds hotdogs and Spam, typical American processed meats, with typical kimchi stew. This pairs great with their selection of Korean rice wine!
5. Woorinara Korean Restaurant
Address:
19 Lor Kilat, #01-02, Singapore 598120
500 Jln Sultan, #01-11, Singapore 199020
Timing: Open Mon – Sun
From 11:00 am to 3:00 pm, and 5:00 pm to 11:00 pm
About Woorinara Korean Restaurant
Woorinara Korean restaurant has two locations, but even better, they allow island-wide delivery and self-pickup from their restaurants! You can enjoy any of their dishes from their extensive menu from the comfort of your own home, or have a night in at either of the beautifully decorated restaurants.
Woorinara is loved for their huge Korean fried chicken menu. From soy sauce chicken, soy garlic chicken, cheese fried chicken, and sweet and sour chicken – they have perfected juicy and tender fried chicken dishes. You can order these a la carte, or as a set. These sets also include six or seven banchan, including kimchi, kimchi soup, pickled radishes, braised potatoes and more.
They also have beef and pork Korean BBQ sets to order. These also come with lettuce, garlic bulbs, mushroom, and sliced chilis! This is definitely one of the best Korean restaurants to order from!
6. SBCD Korean Tofu House
Address:
Tanjong Pagar Centre – 7 Wallich Street, #B1-01/02, S(078884)
Millenia Walk – 9 Raffles Boulevard, #01-114, S(039586)
Alexandra Retail Centre (ARC) – 460 Alexandra Road, #02-21, S(119963)
Timing: Open Mon – Sun
From 11:30 am to 2:30 pm and 5:00 pm to 9:30 pm (Mon-Fri) and 11:30 am to 2:30 pm (Sat & Sun)
About SBCD Korean Tofu House
Every SBCD Korean Tofu House uses a signature SoonTofu broth recipe that you can't find anywhere else! With recipes developed by Korean chef and founder, Nam Kyoung Soo, and using tofu freshly made in-house SBCD's tofu dishes cannot be beaten. It is one of the best Korean restaurants in Singapore with tofu-based dishes.
Their soybeans come directly from Paju, South Korea. Though it is just an hour from South Korea's capital city, Seoul, Paju is a pristine and cultivates beans with extremely high quality. The soybeans are then boiled, curdled and pressed at SBCD Tofu House to create a perfect silken tofu.
Their menu is divided into their SoonTofu items, Combo Meals, Kid's Meals, Mains, Add-ons, Starters, and Beverages. They also have several items that can be packed and delivered to go. The SoonTofus are, of course, the stars of the show! It comes in four spice levels, and with options like intestine, pork belly, oyster, and beef. The sesame variant is free of pork, so it is vegetarian-friendly!
7. Hansik Restaurant
Address: 205 Hougang Street 21, Singapore 530205
Timing: Open Mon – Sun
From 11:00 am to 3:00 pm, and 5:00 pm to 10:00 pm
About Hansik Restaurant
Hansik Restaurant proudly serves up a la carte KBBQ and some of the best authentic Korean food in Singapore. It is located right next to the Heartland Mall, so you can find it with no issue.
Their Korean BBQ buffet open on both weekdays and weekends is Korean cuisine heaven! Their savoury meats include all the classics, grilled on sizzling hot plates. Hansik also has delicious, comforting foods to match the restaurant's calming aesthetic. These include the tender Green Tea Pork Belly and herbal Ginseng Chicken Soup.
Get in earlier in the afternoon to get the best picks from their lunch salad bar, which only costs SGD $12.00! You can indulge in seafood kimchi pancake, pickled radish, spicy rice cake, and lots of fresh fruit and veggies.
If you are a student, gather your friends and enjoy Hansik's student discount – one student eats free per every three students paying. Korean students can visit Hansik for comforting food from home, and great prices.
8. SURA
Address: 60 Tanjong Pagar Road, Singapore 088481
Timing: Open Mon – Sun
From 11:30 am to 3:00 pm, and 5:30 pm to 10:30 pm
About SURA
SURA is located in an area lovingly referred to as Singapore's 'Little Korea'. SURA's namesake comes from 'sura-sang', a Korean word describing the meals that kings of the Joseon dynasty enjoyed. With a classy and luxurious interior and exterior, SURA is one of the best Korean restaurants to visit for a high-class experience of Korean food.
SURA serves their dishes in courses, rather than a la carte. Though their prices are slightly higher than other Korean restaurants, trust that you'll receive the highest quality authentic Korean cuisine and service.
They also serve their food with a bansang style, which is the same table setting used by Korean royalty. Their many small dishes give you a taste of all kinds of Korean food. Some of these dishes include Gujeolpan, a platter of nine delicacies, Jeotgal, fermented and salted meat or seafood, Mukbap, chilled acorn jelly and rice soup, Pumpkin Porridge, and much more.
9. Korean Fusion BBQ
Address: 5 Dunlop St, #02-00, Singapore 209335
Timing: Open Mon – Sun
From 11:30 am to 2:00 am
About Korean Fusion BBQ
Korean Fusion BBQ restaurant is just a five-minute walk from Rochor MRT Exit B, and its heavenly buffet is open late into the night! They offer up a delicious 1-for-1 deal, allowing you to save up to $30 or more!
The Korean restaurant has a huge selection of meats to grill, veggies, sauces to eat with, and standalone dishes to enjoy. Their spread of marinated meats includes juicy pork belly, slices beef, cuts of chicken, prawns, imitation crab, hotdog sausages, fishcakes, and more.
They also have delicious popcorn chicken, seafood pancakes, curries, and even local dishes like laksa. Customers especially love their unique sauces, such as their black pepper, sweet Thai chili, teriyaki, and doenjang sauces.
10. Kko Kko Na Ra
Address: 68 Tanjong Pagar Road, Singapore 088489
Timing: Open Mon & Tuesday – Sun (Closed Wednesdays)
From 12:00 pm to 1:00 am
About Kko Kko Na Ra
Kko Kko Na Ra is another Korean restaurant in Little Korea, on Tanjong Pagar Road Singapore! This road is definitely where to search for the best Korean restaurant, as there are so many spots to try! Kko Kko Na Ra is one of the most popular Korean fried chicken restaurants!
Founded in 2008, this restaurant features kimchi jjigae, pork and beef stews, glass noodle japchae and more alongside their chicken dishes. Their fried chicken comes in many options, from garlic soy sauce chicken, honey shiock fried chicken, mala Korean fried chicken, and yangyum (sweet and spicy) fried chicken.
If you're craving hearty, filling Korean cuisine that taste homemade, Kko Kko Na Ra also has classic dishes like ginseng chicken soup, pork rib hangover soup called haejung guk, and seol leong tang, or ox bone soup.
11. HANJIP Korean Grill House
Address: 3C River Valley Rd, #01 – 11 Clarke Quay, Singapore 179022
Timing: Open Mon – Sun
From 12:00 am to 2:30 pm, and 5:00 pm to 12:00 am
About HANJIP Korean Grill House
HANJIP Korean Grill House is one of the biggest and best Korean restaurants in Singapore! Founded in 2020, HANJIP is a newer Korean restaurant, and takes up an area of over 5,000 square feet. It prides itself on serving high-quality cuts of meats, such as their USDA Prime Beef, Australian Wagyu, and Kurobuta Berkshire Pork.
With such a large operating area, HANJIP also provides a number of services. Not only can you dine in, you can order takeaway from them online, receive island-wide delivery, and you can reserve a private dining experience.
Don't think this is an adult-only restaurant, though! Kids are welcome at HANJIP, as they eat free for lunch on weekends with paying adults, and they can get free gelato during holidays! They also have special deals during holidays like Valentine's day.
Not only do they serve Korean food, HANJIP also serves some of the best Korean alcohol in Singapore. Adults can enjoy their soju Fujikinran whiskey along with their mouthwatering and super soft meat. They also serve Chorong Chorong soju in five fruity flavours!
The grill house has a dark and rustic interior, with soft lighting that allows diners to put all their focus on their food and guests! They of course have some of the best Korean food around asides from their Korean BBQ – with dishes like garlic pork belly, seafood pancake, spicy stir fried octopus, Korean fried chicken, and much more.
12. Guiga Korean BBQ Restaurant
Address: 134 Tanjong Pagar Rd, Singapore 088538
Timing: Open Mon – Sun
From 11:00 am to 3:00 pm, and 5:00 pm to 11:00 pm (on weekdays)
From 11:00 am to 11:00 pm (on Saturday and Sunday)
About Guiga Korean BBQ Restaurant
Guiga Korean BBQ Restaurant is another delicious spot in Singapore's Little Korea! They are most well-known for their comforting hot pots that you can share with a small group. Customers love the wide variety of hot pot seasonings and ingredients to add into the broth.
No matter your mood or craving, Guiga has the perfect Korean meal. From spicy seafood, to Korean fish cakes, to tender beef ribs, their hot pots offer it all. Of course, they also serve other good food!
Guiga also serves Korean BBQ, with sets for beef lovers and variations of beef and pork, pork and chicken, and more. You get large cuts of meet for an affordable price, and authentic Korean food that hits the spot.
They aren't as big as other Korean restaurants in Singapore, but their interior has an authentic Korean design. Their many wood dividers, soft lighting, and simple seating arrangements create a cozy, comfortable atmosphere. Enjoying your Korean BBQ is very easy here, as you have an open area to share food with your friends.
13. Danji Korean BBQ Buffet
Address: 188L Tanjong Katong Rd, #01-01, Singapore 437156
Timing: Open Teus – Sun
From 11:30 am to 2:30 pm, and 5:30 pm to 10:00 pm (on weekdays)
From 11:30 am to 10:00 pm (on Saturday and Sunday)
About Danji Korean BBQ Buffet
Opened by a Korean couple, Danji Korean BBQ Buffet uses authentic recipes to serve simple but mouthwatering food. Many customers rave over their especially crunchy kimchi, which also comes in an extra sour option.
Their restaurant has a humble exterior and interior, and the owners' focus is on providing good food and excellent service. While their BBQ meats are delicious, many customers cite the side dishes as making a big impression. These include their mashed or braised potatoes, bean paste, super fresh vegetables, and macaroni pasta salad.
14. Chang Korean BBQ
Address: 71 Loewen Rd, #01-01, Singapore 248847
Timing: Open Mon – Sun
From 12:00 am to 3:00 pm, and 6:00 pm to 10:00 pm
About Chang Korean BBQ
Chang Korean BBQ mixes charcoal grilling with a fancy dining experience! You can dine in for a casual lunch or dinner, make reservations for a corporate event, or dine privately for a special occasion.
They serve some of the best Korean food you can find in Singapore, of course. Paired with a brightly lit interior and modern design, you can enjoy your food along with the atmosphere. Their BBQ choices include fresh pork belly, beef brisket, wagyu, and even ox tongue among many others.
Chang has a mix of cold and hot dishes available. Some of their cold dishes are beef tartare, seasoned with pear, pinenut, and egg yolk, as well as their Haesanmul salad, made of fresh raw tuna, squid, and seared scallop, prawns, and yam. These are especially unique, and made with incredible finesse. The restaurant makes full use of its fresh seafood, especially in their yummy Korean stews called jjigae.
15. Jangwon Korean Restaurant
Address: 44 Mosque St, #01-01, Singapore 059522
Timing: Open Mon – Sun
From 11:30 am to 2:30 pm, and 5:30 pm to 10:30 pm
About Jangwon Korean Restaurant
Jangwon Korean restaurant is just a three-minute walk from the Sri Mariamman Temple in Singapore. Their delicious Korean BBQ sets come with kimchi and vegetables, like king oyster mushroom, lettuce, bean sprouts, enoki, and garlic. It also comes with a hearty side of steamed egg, and a choice of stew. We highly recommend their kimchi jjigae, which comes with mushroom, tofu, and seafood.
They serve other Korean food in their a la carte and all day combo menus. These authentic Korean dishes include stir fried squid and pork belly, saba fish (grilled mackerel), pork-on-the-bone stew, ramyun, and Korean fried dumplings.
If you're craving Korean BBQ at an authentic Korean restaurant after going sightseeing in downtown Singapore, Jangwon is the perfect choice.
Final Words
The best Korean restaurants in Singapore can be hard to find, and choose from! There are so many Korean BBQ restaurants alone. We made it easy for you with this master list of the best Korean food to experience in Singapore.
Whether you want to enjoy Korean food in a fine-dining experience, for a casual lunch, or as an all-you-can-eat buffet, this list has it all. If you're new to the cuisine, all of these restaurants can provide you with the best introduction to new Korean food!
FAQs – Korean Restaurants in Singapore
What Can I Expect to Find on the Menu of a Typical Korean Restaurant in Singapore?
When dining at a Korean restaurant in Singapore, you can expect to find popular Korean dishes such as kimchi, bibimbap and bulgogi.
What is the Average Price Range of a Meal at a Korean Restaurant in Singapore?
The average price range of a meal at a Korean restaurant in Singapore can vary depending on the specific restaurant you choose to dine at. However, in general, you can expect to spend around $25-$45 per person for a meal at a Korean restaurant in Singapore (a la carte).
What are Some of the Most Popular Korean Dishes?
Some of the most popular Korean dishes include kimchi (fermented cabbage), bibimbap (rice dish with vegetables and meat), bulgogi (marinated beef), galbi (barbecued short ribs) and jjigae (stew).
Here is What Our Audience Is Reading The Most
Best Vegetarian Restaurants in Singapore
Best Keto Friendly Restaurants and Bakeries in Singapore
Organic Supermarkets and Grocery Stores in Singapore