TL:DR – Low sodium fast food options might cure your bloating, fatigue, and strange cravings. We found the best compromise: enjoy all your favourite fast food places with low sodium dishes.
Finding low sodium fast food alternatives might be challenging, but it is not impossible. Fast food restaurants are adapting their menus to fit the demands of their customers' rising health awareness as more people become conscious of their health concerns.
Many low sodium meal options are progressively accessible at the most popular fast food businesses. Other healthy foods, like fruit cup or fresh fruit side dishes, are also being offered.
The consumption of high sodium fast food has reached an all-time high in today's society. Even though they are unhealthy, fast meals like burgers, pizzas, and greasy fries are popular with the public. They have high fat, sugar, and salt content, enhancing flavour and taste.
The more salt you eat, the thirstier you become, leading consumers to buy more unhealthy beverages. It's challenging to keep track of everything you eat, particularly if you're a fast-food lover.
Rest-assured, low sodium diet options are just as delicious as other fast foods and are readily available.
Low Sodium Fast Food Options
Several popular fast food places provide low sodium options on the menu. Here are some low sodium diet friendly options from several well-known fast food companies.
1. McDonald's
Fruit & Maple Oatmeal
McDonald's is probably not your first thought when you consider low sodium fast food. However, they have several healthier options, such as the fruit and maple syrup oatmeal.
This low sodium meal includes oatmeal, sliced apples, light cream, and a cranberry-raisin combination.
It has 150 mg of salt per serving, around 7% of the required Daily Value (DV). It also has 4 grams of fiber per serving and may help you get more of some minerals like iron and potassium.
Hotcakes
McDonald's offers a variety of breakfast options including hotcakes, one of the most popular. They're also a low sodium option, with 550 mg of sodium per serving, or 24 percent of the daily value. In addition to salt, the hotcakes have increased carbohydrate, fat, and sugar levels.
They also supply several essential elements, such as calcium, potassium, and iron. To cut down on sodium, avoid salted whipped butter. Following these methods will reduce the total quantity to 480 mg, for all three hotcakes.
2. Subway
Veggie Delight
Even though Subway does not have any healthy selections, the vegetarian pleasure option at Subway is still available. This veggie-packed sandwich has low salt content, making it a healthy option.
On 9-grain whole wheat bread, it's a blend of healthy veggies, including tomatoes, onions, lettuce, green peppers, and cucumbers. It is lower in saturated fat and has almost no excess sodium. It is around 280mg in weight. You may also select to make your sandwich with chicken.
3. Pizza Hut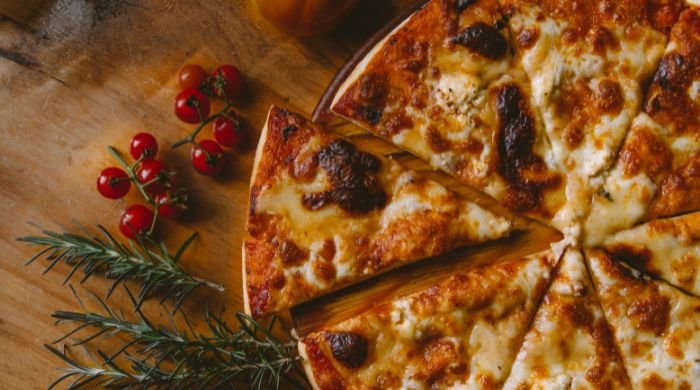 Veggie Lovers Small Thin 'N Crispy Slice
When you desire a slice, you're well aware that it's all too easy to wind up with a whole pie on your sofa a few days later. Instead, give in to your hunger and order a piece of Pizza Hut's veggie lovers.
Most people believe that pizza is high in sodium and calories. Still, with just 100 calories per piece, you receive a health benefit in addition to the decreased calorie and sodium content: antioxidants from the green peppers, onions and olives.
Plus, you may have a slice without compromising your health or waistline with just 1.5 grams of trans fat and 3.5 grams of fat.
4. Starbucks
PB&J Protein Box
Starbucks has started providing a variety of protein boxes in recent years. The boxes are appropriately balanced to provide you with the nutrients you need to go through the day with higher energy levels.
For example, the PB&J Protein Box provides you with protein, carbohydrates, and fat. The typical PB&J Protein Box has just 570 mg of protein, but it comes with whole grain bread, cheese, a yogurt dip, fruits, and veggies to munch on.
It's primarily a considerable mealthat will satisfy your hunger without exceeding your daily salt limit.
5. Burger King
Chicken Nuggets
Burger King's chicken nuggets are a far healthier choice than the restaurant's burgers and sandwiches if you're limiting your salt consumption. A 4-piece portion has 495 mg of salt (22 percent of the DV), less than half of a Whopper.
The 4-piece give 9 grams of protein and fewer than 200 calories per serving and are reasonably low in salt. The key goal is to stay away from sauces and creams as much as possible. Spicy or savory sauces have a high salt concentration, evident in the taste.
6. Taco Bell
Crunchy Taco with Beef
One beef crunchy taco in the "Fresco Style" contains 140 calories, 3 grams of fiber, and 6 grams of protein (without the Cheddar Cheese, which has 30 calories and 40 milligrams of sodium) and is replaced with zero-calorie/zero-sodium tomatoes.
This taco has less salt while still filling because of its high protein and fiber content. If you're searching for a packed lunch, two of these beef tacos will deliver less sodium (540 mg) than one Taco Bell Beef Burrito Supreme (1,110 milligrams).
There is also a chicken crunchy taco option.
7. Dunkin' Donuts
Multigrain Oatmeal
While you're shopping for your cup of coffee, you may be tempted to spend a little more money to get yourself a doughnut for breakfast. However, a better choice is to order one of Dunkin' Donuts' great oatmeal, such as the Multigrain Oatmeal.
This oatmeal is a great breakfast choice for cereal since it's packed with healthy ingredients and seems to be expertly made. It also only has a maximum salt content of 250 mg. Try sprinkling dried fruit on top of your oats to take it to the next level.
8. Chipotle
Taco
Since Chipotle's tacos may be readily tailored to meet your dietary requirements and tastes, it's simple to swap out the fillings to reduce the salt amount of your meal at Chipotle.
A chicken taco with romaine lettuce, crispy corn tortilla, fajita veggies, sour cream, and black beans, for example, has 233 mg, or 10% of the daily value.
Similarly, substituting steak or carnitas for the chicken reduces the total salt level to 240 mg or 280 mg.
9. CHICK-FIL-A
Grilled Chicken Nuggets
We all know that Chick-fil-A has some of the most delightful offerings compared to other fast-food places when it comes to chicken. However, a large number of their dishes are laden with sodium.
We suggest the grilled or breaded meat optionsas a low-sodium option to the typical chicken sandwich. Grilled chicken nuggets are the perfect choice.
Only 440 mg of salt will be consumed in the eight counts, and 515 mg will be consumed when served with honey mustard sauce. You'll be delighted to know that each serving has 25 grams of protein and 140 calories, which will help to balance the sodium.
10. Wendy's
Baked Potato
This traditional baked potato is one of Wendy's most basic selections, with just 40 mg of salt per serving or about 2% of the daily value. It also contains a significant amount of iron, potassium, and fiber per serving and 7 grams of protein.
You may order a regular potato and top it with your favorite healthy toppings like herbs and vegetables, or go for the Sour Cream with Chive option, which has just 55 mg of sodium per serving. It has just 270 calories and 1,560 milligrams of potassium.
11. In-N-Out
Protein Style Hamburger
It has 370 milligrams of salt and 240 calories and uses lettuce instead of a bun. You can dramatically lower the salt level of your burger by ordering it "protein-style" while still being tasty.
A hamburger with the bread has 650 milligrams of sodium, but a hamburger without the bun has 370 milligrams, saving you 280 milligrams if you eat protein-style. You'll also save 150 calories and 18 grams of carbohydrates by avoiding the bread.
Why Should You Be Concerned About Your Salt Intake?
Hypertension, hypernatremia, and heart failure are all associated with an increased risk of high blood pressure; therefore, monitoring salt intake is critical for such individuals.
Those with renal illness should also avoid sodium since too much of the nutrient may result in kidney disease. Even if you don't have these conditions now, lowering your salt consumption might be beneficial to prevent them from happening.
According to the American Heart Association (AHA), the standard American eats more than 3,400 mg of salt per day daily.
Many with health concerns might go so far as to spend extra money on a healthy meal delivery service. Instead of doing so, you can cut out high sodium fast food from your diet.
In the drive-thru, where burgers and fries top 3,000 mg of sodium, there is plenty of chance to lower your sodium intake.
Is It Possible to Get Low Sodium Fast Food?
Why do we crave fast food? The high salt content in most fast foods makes them more appealing and stimulates our hunger and thirst, causing us to purchase more fast food.
While finding low sodium fast food might be difficult, it is not impossible. Most fast-food restaurants are changing their menus to better respond to the needs of their consumers.
Low sodium fast food alternatives are being introduced to menus and devoid of gluten, dairy, sugar, and salt. With rising concerns for blood pressure and organ health, it only makes sense to improve their low sodium fast food options.
Fast food isn't the ideal option for a low sodium diet. However, suppose you have a limited number of alternatives and don't want to miss meals.
It's critical to provide yourself with the necessary knowledge ahead of time to make the best decision possible.
Continue reading to find how you can manage a low sodium diet while enjoying your favorite fast food chains.
Where Can I Get Low-Sodium Fast Food?
While available low sodium fast food options may not always match the FDA's definition of "low sodium," we've created a list of suggestions to help you stay on track with your salt intake:
Avoid fatty toppings, sides, dressings, and spreads – In addition to excess calories, these foods are often high in salt or sugar.Ask for extras like bacon, croutons, or salad dressings on the side so you can decide how much to add.
Choose meats that have been grilled, broiled, or baked – While fried, breaded, and deli meats may lure you with their appealing appearances, they will almost always have more salt added.
Super-sized items should be avoided – The terms "jumbo," "super-size," and "double" are unambiguous warning flags that signal too much sodium, calorie, and harmful fat content.
Keep it simple and stick to water – While most beverages don't have a lot of salt, getting into the habit of drinking water during your meals is a good idea.
A low sodium diet is crucial if you're menstruating, pregnant, or breastfeeding, so do your preparation in advance to identify low sodium fast food choices.
We combed through menus at major restaurants to uncover low-sodium options, with the figure in brackets indicating the sodium content per dish.
Low Sodium Fast Food Dishes You Can Make at Home
With all these options for when you eat out, you can also consider making changes at home. Instead of a dressing from the restaurant, you can use a reduced fat balsamic vinaigrette on your salad.
Preparing low-sodium foodsat home is simpler than you would think. In terms of convenience meals, several salads and vegan sandwiches low in salt may be made quickly.
Having the ability to regulate the amount of salt, sugar, and fat in your home-cooked meals is helpful since it gives you more control over your meals.
Making low-sodium fast food at home can be easy!
Before you purchase something, make sure you know its nutritional value details.
Check the label to discover how much sodium is in the product before buying.
Processed, dried, and smoked meats have a high salt content.
Canned fruits and veggies tend to have a high salt level, so be careful when using them.
Use canned products with' low sodium' or 'sodium-free' on the label.
Thoroughly rinse ingredients before using them.
The internet is an excellent resource for discovering low sodium recipes. Meals with 300 mg or less of salt that may be prepared at home are included in the following list.
Homemade Mixed Vegetable Burgers
Lemon Pepper Tilapia with Mushrooms
Fish and Chips
Mixed Spice Burgers
Grilled Basil Chicken and Tomato
Whole Wheat Veggie Pizza
Roasted Chicken with Peppers and Tomato
Side Salads or Chicken Salad
Baked Meats
Conclusion
Despite countless attempts to increase knowledge of the potential and anticipated repercussions of fast food's influence on health, it is hard to convince consumers to quit eating it.
One potential answer is to make meals healthier by lowering salt consumption and campaigning for reduced sodium intake, including in fast food. Your favorite fast food chain probably has low sodium fast food options, if you know where to look.